Project Description
Realized by // Fabrizio De Matteis & Matteo Alberti
"ModàCam" è un innovativo modello concepito e realizzato da Topside Multimedia per
Vodafone
durante il Gioia Tour 2013, il tour italiano dei
Modà
. La prima parte del tour dura 2 mesi, tocca 11 città per un totale di 20 date e più di 150.000 presenze complessive.
Prima di ogni data del tour, il team di Topside Multimedia raccoglie, attraverso delle interviste, le emozioni dei fan in attesa di vedere i Modà in concerto. Le interviste vengono montate in real-time e trasmesse subito prima dello spettacolo sul megaschermo all'interno del palco. Gli spettatori hanno la possibilità di sentirsi ancora più vicini alla band, il video con le loro interviste fa crescere l'emozione che poco dopo esploderà con l'inizio del concerto. Durante lo show, viene preparata una versione più corta del video, la quale viene subito caricata sui canali ufficiali della band e di Vodafone.
L'iniziativa ha un grande successo, sia durante i concerti, sia attraverso i canali digitali, con più di 200.000 views complessive, più di 44.000 "like" su Facebook (dati aggiornati a Giugno 2013).
"ModàCam" is an innovative project created and realized by Topside Multimedia for Vodafone during the "Gioia Tour 2013″, the Italian tour of the band Modà. The first part of the tour lasts 2 months, touching 11 cities for a total of 20 dates, and more than 150,000 total attendees.
Before each tour date, the Topside Multimedia team collects, through interviews, the emotions of the fans who are waiting to see the concert. The interviews are assembled in real time and transmitted immediately before the show on the big screen on the stage. Viewers have the chance to feel even closer to the band, the video interviews let the emotion grows and explodes at the beginning of the concert. During the show, a shorter version of the video is prepared and uploaded on the official web channels both of the band and Vodafone.
The initiative is a great success, both during the concerts and on the web, with more than 200,000 total views, more than 44,000 likes on Facebook (as of June 2013) .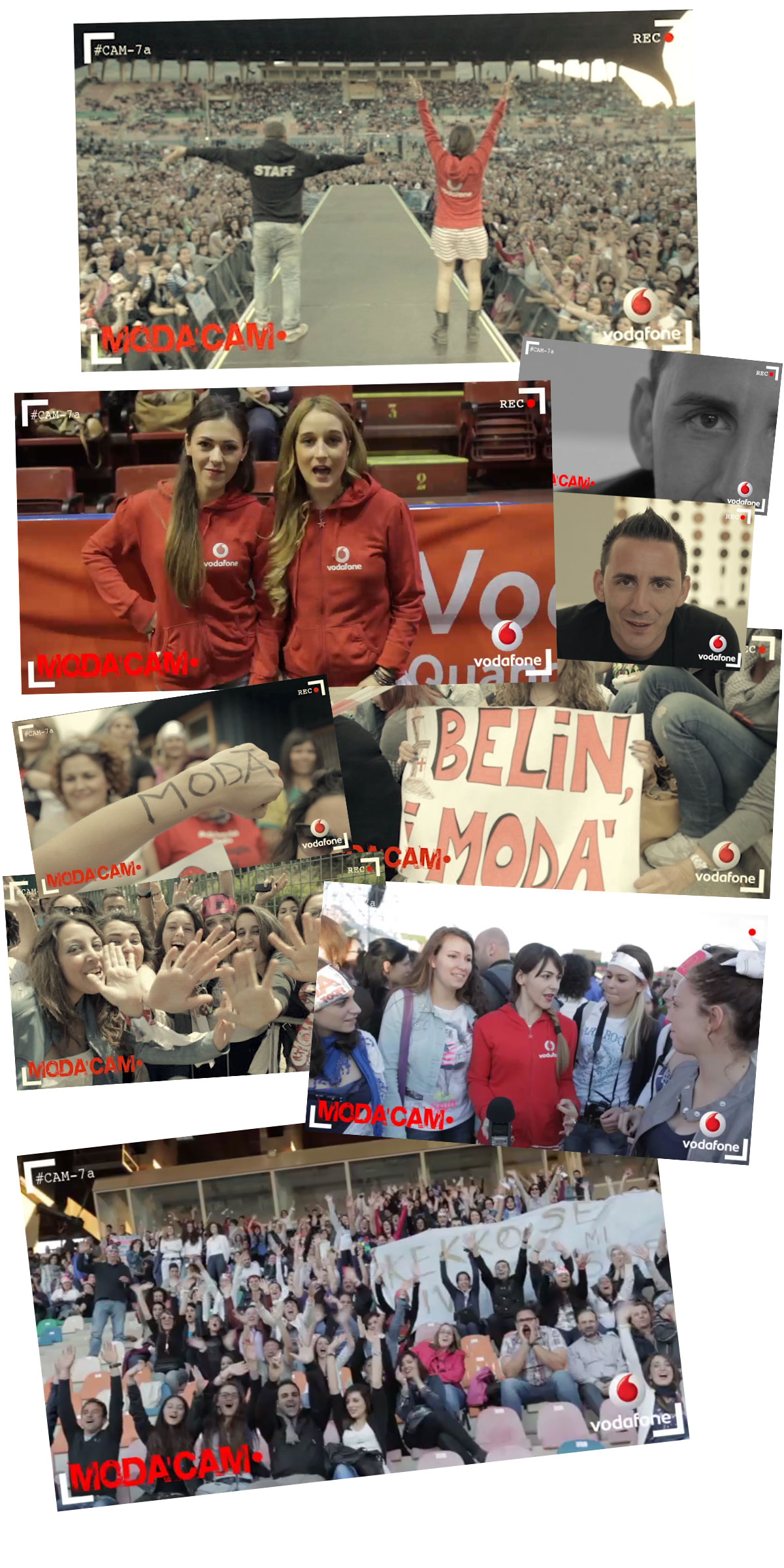 ModàCam – watch the complete playlist
Final message by Kekko (the singer) – watch the video
Roma Palalottomatica 9 Aprile – watch the video
Roma Palalottomatica 10 Aprile – watch the video
Milano Mediolanum Forum 14 Aprile – watch the video
Milano Mediolanum Forum 15 Aprile – watch the video
Roma Palalottomatica 19 Aprile – watch the video
Roma Palalottomatica 20 Aprile – watch the video
Milano Mediolanum Forum 22 Aprile – watch the video
Milano Mediolanum Forum 23 Aprile – watch the video
Genova, 105 Stadium, May 3rd – watch the video
Torino, Palaolimpico, May 4th – watch the video
Milano, Mediolanum Forum, May 6th – watch the video
Bologna, Unipol Arena, May 8th – watch the video
Padova, Palafabris, May 10th – watch the video
Padova, Palafabris, May 11th – watch the video
Bolzano, Palaonda, May 14th – watch the video
Firenze, Nelson Mandela Forum, May 17th – watch the video
Firenze, Nelson Mandela Forum, May 18th – watch the video
Caserta, Palamaggiò, May 21st – watch the video
Bari, Palaflorio, May 22nd – watch the video
Palermo, Velodromo, May 25th – watch the video